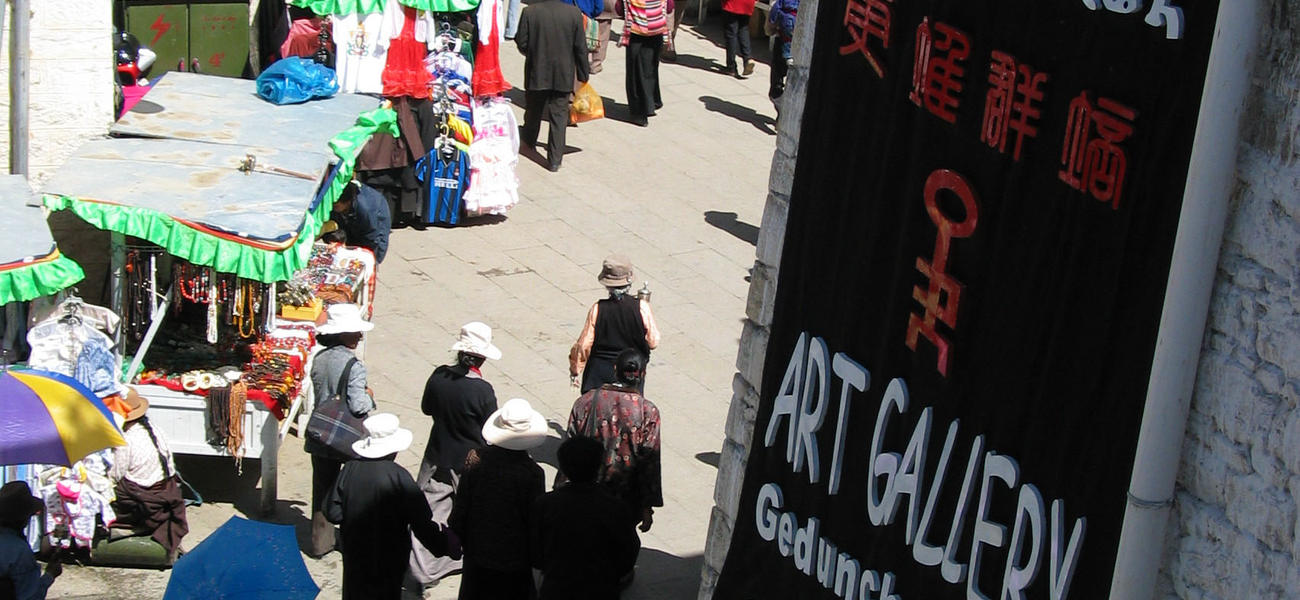 It was shocking. The enormous face of a young Tibetan boy stared, confrontational, through an ancient doorway in a white-washed wall in Lhasa's historic Barkhor district. His skin glowed purple as if awash in the neon lights of Hong Kong, rather than the bright sun of the fall morning in 2003, when the gallery of the Gendün Chöpel Artists' Guild first opened its doors. I first met the artists of what would become the Gendün Chöpel Artists' Guild three years earlier, in the summer of 2000. I'd moved to Lhasa the year before, when I began working for Trace Foundation. For several years before that, Trace Foundation had focused our work within the culture sector primarily upon preservation, but beginning that summer we began exploring new opportunities to expand our work in this area. We were eager, in particular, to take on projects that would develop and reinvigorate Tibetan culture.
Through my colleague in New York, Tenzin Gelek, I met the first of the Tibetan artists I was to come to know during my time in Lhasa, Tserang Dhundrup. At the time, he was working as a set designer for the Ensemble for Tibetan Song and Dance.
Tserang wanted us to see the man he referred to as his "teacher" before I saw any of his work. I met him at his co-worker, Tsering Dorje's house with my colleague Kim Morris. Tsering Dorje had a beautiful old-style Tibetan house with a courtyard and an incredible garden. Pink azaleas filled the entrance from floor to ceiling and dozens of pots with multi-colored flowers were arranged around the edges of the yard. It was an oasis of tranquility, utterly apart from the bustling noise of the Lhasa streets just outside the red gate.
We went up to his studio, which was on the second floor of Tsering's house, and, after several cups of tea, he asked if I wanted to see some of his work. The room was filled with canvas and drawings, more than I have ever seen in any other artists' studio.
He brought samples of his work out in the garden so that we could see them in better light. Among the works was an oil painting of the Potala Palace in dark shades of red and yellow. The painting grabbed me. The palace was majestic but with an aura of sadness about it. The straight edges of the palace were curved and twisted, as if invisible forces were pressing against every side of the building. The original form of the palace was lost, but the distorted shape gave new energy to the palace as it stretched skyward. A painting of a stupa sat next to it, rendered in the incomparably brilliant palette of a sunny day on the Tibetan Plateau. It too appeared squeezed, warped by invisible forces, but it was still immediately recognizable, a distinctly Tibetan landmark that dots the countryside from Pakistan to Gansu.
My colleague Kim had already visited Tserang at his home to see his work, so I went to see his work alone. He was living not far from the Potala Palace in a small concrete apartment building of the type that was mass produced in the 50s and 60s and found in every city throughout the PRC. It seemed strange to think of an artist living in such a building.
"This is it," he said, as I entered his small room. With no other space to work in, this single room was both his home and his studio. Almost immediately, a painting of an old man caught my eye. The painting was nearly photo-realistic, with each wrinkle painstakingly replicated. From across the room, I could feel the intensity of his gaze, and the illusion didn't wear off even as I came closer. In each of the paintings arranged around the room, I was struck by the deep contrast between the traditionally dressed subjects and the modern style in which they were painted, and the quiet boldness in each of their expressions. These qualities, which I recognized immediately in the paintings, I later came to realize were qualities of Tserang himself.
During the course of our early conversations with Tserang and Tsering Dorje it became clear that they were eager for an opportunity to exhibit their work in the West. We at Trace Foundation discussed it and felt that we could play a role in creating an opportunity for these artists not just to show their work, but more importantly, to gain exposure to the global contemporary art scene.
Back in New York, Tenzin Gelek reached out to the Snug Harbor Cultural Center, a large arts complex on Staten Island that had been running an artists-in-residence program for about fourteen years at that point. They offered both an exhibition space and a small cottage that could house four artists. At the same time, Tenzin Gelek began speaking with The Henry Street Settlement in lower Manhattan, which runs its own artists-in-residence program and was exhibiting the works of a number of emerging artists. Together with these two organizations we developed what we called the International Cultural Collaborations Project.
With room for four at the cottage at Snug Harbour, we decided to open up the remaining two places to a wider pool of applicants. That summer, Tserang began taking me around to meet some of the other artists in and around Lhasa.
The number of tourists coming to Tibet had risen steadily since it opened up to foreigners in the 1980s, but in the late '90s and early 2000s, the number of both foreign and domestic tourists really exploded. The streets around the Barkhor were full of shops selling paintings. While there still were, and are, master thangka painters and their students producing incredible works, much of what was being sold at the time was stereotypical depictions of Tibetan daily life, or images meant to conjure up the "Shangri-la" mystique that brought, and still brings, many tourists to Tibet.
Throughout the city, however, some artists had begun to work in new styles. Most of these artists, many of whom have since become famous in their own right, didn't have studios at the time. Instead, we'd meet them at their home, sit in the courtyard, share a cup of tea and talk about their art. The work that most of these artists were producing at the time was still quite conservative, but a few were already beginning to break out and try new things, experimenting with new media and new imagery.
Ultimately from an incredible pool of applicants, we selected – in consultation with Snug Harbor, Henry Street Settlement, and also Gonkar Gyatso, who was himself emerging as an important artist at the time – Gade and Benchung. Gade, at the time, was still working with traditional Tibetan mineral-based paints. He was also working with a drastically limited palette, while attempting to depict his own experience more directly. Benchung's early work was similarly dark, earthy, and angular, drastically different from the paintings he produces today. He was experimenting with radically new ideas however, leaving parts of his canvas bare to show what lay beneath.
The artists arrived in December 2001 to begin their residency. They spent four months in the U.S. None of them had ever been to the U.S. before, and though they were initially a bit shocked and puzzled by the art they were seeing and the people they were meeting, I think they really had the time of their life. The Asian Arts Council, with whom we collaborated on this project, did a wonderful job of bringing artists, performance artists in particular, to meet and interact with the four painters. They also had the opportunity to meet with curators, gallery owners, and other artists, including the sculptor Louise Bourgeois.
The Henry Street Settlement selected eight alumni of their artists-in-residence program to meet regularly with the Tibetan artists, and to take them to museums, galleries, exhibitions, and studios throughout the city. When I later asked them, upon their return to Lhasa in the summer of 2002, what had left the greatest impression on them during their time in New York, the four responded without hesitation that it had been those studio visits. In Chelsea, DUMBO, and Williamsburg, they had seen whole buildings of artists working together, collaborating, and sharing ideas. The effect was almost immediate. Together with Nyandak, another Lhasa based artists, Benchung, Tserang, and Gade began laying plans for what would become the Gendün Chöpel Artists' Guild.
Though Benchung eventually left to pursue his own work, plans for the gallery continued to build. The four sought to bring both the production and exhibition of contemporary Tibetan art into the hands of the artists themselves, and to create new opportunities for self-expression. From the initial group, they quickly expanded to ten, including Bempa, Dedrön, Tsering Namgyal, Wang Shimin, Zhongde, and Zhang Ping, and formed the guild in late 2002.
By this time, I'd come to consider this group of artists my friends, and would meet with them regularly in the evenings. When they spoke of the guild, they spoke of creating a window into the Tibetan world. They were incredibly energized by this project, but questions remained. While a few had regular work, primarily through the Art Department at Tibet University, some had little to no regular income. Though everyone wanted to participate, only a few of the artists were initially willing to share costs. Together they decided to draft a charter for the guild, establishing the principles by which the guild would operate. They put a great deal of effort into drafting that charter, and with only a few changes, it's still in use today.
The group rented a former Sichuanese restaurant that winter and began renovating the space. The renovations were incredibly demanding. It took months and dozens of coats of paint to cover the smell of oil and garlic. The morning of the opening the artists were still scrambling to peel the plastic characters of the former restaurant's name off the wall, but when the doors finally opened, it would have been impossible for anyone who didn't already know to guess the building's history. Approaching the gallery, that enormous purple face, one of a series of portraits by Tsewang Tashi, peered through the ancient doorway as if from another world, and, in a way, it was. We gathered together that morning on the roof of the first contemporary art gallery in Lhasa to make an offering of sang, as Tibetans have for centuries.
As time went on, the gallery became increasingly well-known, and new opportunities emerged for each of the artists. In 2003, Gade traveled to Scotland for a month-long artist-in-residence program. At the time, he was experimenting with different metaphors and symbolism, painting characters and symbols from pop culture in a style derived from traditional religious art. While he was there he worked on one of his "Group Photo" paintings, a series of paintings of the head of the Buddha surrounded by a halo of different figures and signs—Ronald McDonald, Mickey Mouse, Red Guards and a Beijing opera singer, as well as mixed symbols from Tibetan traditions.
One day he called me and said, "I'm not sure what I've been doing here. I don't think they really understand me as much as other people do." I said, "What happened?" He replied, "I was here and I was showing them my "Group Photo" painting, and I had this logo of McDonald's and they said, 'Oh good, so you're really against fast food. That's very impressive.'" And he said, "I looked at them and in my broken English I simply said, 'Against? Oh no, I love hamburgers.'" It was really very funny because I also thought that he had put it in there as a critique, but instead it was something that he wanted to incorporate, as it was part of his world.
Though, at the time, the mix and play of symbols in Gade's work was occasionally bewildering. Looking at his paintings today, I understand what I saw through that ancient red door the day the Gendün Chöpel Artist's Guild opened their gallery seven years ago. Though in much of the world, nothing could seem further from religious murals than neon signs, from ancient temples than fast food, in Tibet they sit side-by-side. In Tibet, the sacred dances, as it always has, on the edge of the profane.
In 2000, in his application to Trace Foundation to be included in the International Cultural Collaborations project, Gade wrote:
I always thank the heavens for allowing me to be born in Tibet. Whether I am amongst the high mountains and large rivers of Tibet, on the pilgrimage circuits crowded with people, beside a pile of mani stones studded with prayer flags, or, especially, when I stand before frescoes which have been through hundreds of years of winds and rains and are now mottled, I always feel an inexpressible spiritual power surrounds me.

If all the wall paintings in Tibet's monasteries were placed side by side, not a single museum in the world could contain them all. These works are the brilliant and colorful great art produced under difficult conditions through the extraordinary willpower of our ancestral artists. At the same time, these people enjoyed a great peace and happiness. It is my hope that I myself will become a bearer of their tradition.
Today, I know that not only Gade, but each of the 27 artists who are today members of the Gendün Chöpel Artist's Guild are carrying the rich legacy of Tibetan arts forward, into the future.
---
In 2008, the Gallery of the Gendün Chöpel Artists' Guild moved to a new building alongside the Kyichu river in Lhasa. The artists of the guild continue to be productive, showing their work around the world including, most recently, in the show The Scorching Sun of Tibet at the Songzhuang Art Museum in Beijing. Paola Vanzo, left Lhasa in 2006 to take up a new post within the Foundation in New York. When she left, she left behind an incredible group of friends.