The Legacy of Michael Aris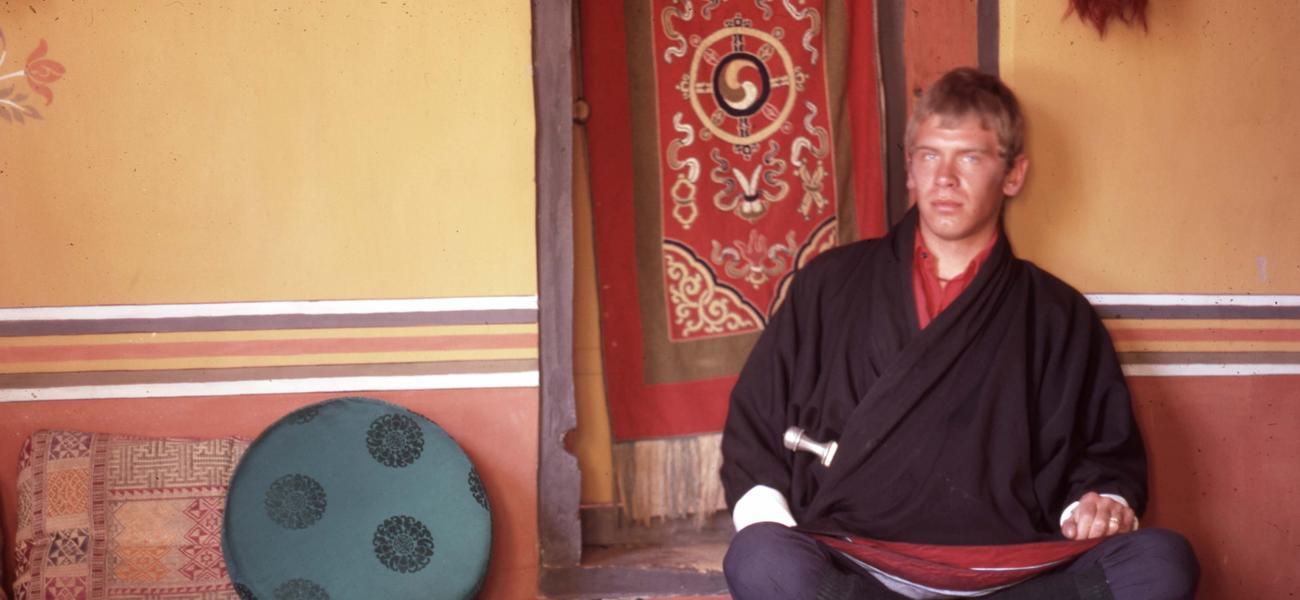 When you keep a book for four or five hundred years, the glue you use to attach bookplate in the books—and how you apply the glue—can mean a lot, explains Charles Manson, the Tibetan Subject consultant librarian of the Bodleian Libraries in Oxford.
He smiles as he holds up a paper bookplate that he personally glues into the inside cover of every book bought with Trace Foundation support.
Our work with the Bodleian began in 2000, after we learned of the tragically early passing of Michael Aris. Most people know Aris as the late husband to the Burmese Nobel Peace Prize winner Aung San Suu Kyi. But Aris was also known as one of the world's preeminent Tibetologists and experts on Bhutan.
Aris was only in his early twenties when he accepted an appointment as the private tutor for the royal family in Bhutan. He spent six years there, learning the national language, Dzongkha, and became an expert on the Himalayas. Before long, his interest extended to Tibet, inspiring him to write a study of Pema Lingpa and to cofound the International Association for Tibetan Studies (IATS), an organization dedicated to promoting the study of Tibet from all disciplinary perspectives and to providing a forum at which both established and aspiring scholars can present original academic research. IATS conferences have since developed exponentially.
Aris's accomplishments were manifold. Among them, he convened the second international conference on Tibetan studies and edited the collected writings of Hugh Richardson on Tibetan history. From 1989, he was a fellow of St. Antony's College in Oxford, where he taught Tibetan language and Tibetan studies. However, before he could realize his ambition to establish Tibetan and Himalayan studies at an institutional level at Oxford, he died at the young age of fifty-three. On his death, the Bodleian Libraries at the University of Oxford received the generous donation of Michael Aris's entire private library of Tibetological primary and secondary materials.
In 2000, Trace offered the Michael Aris Memorial Trust for Tibetan and Himalayan Studies the first of two grants in support of this collection. With this funding, the Libraries were able to hire Ralf Kramer, a Tibetologist from Hamburg, to refine, enhance, preserve, and organize the existing collection, and to expand its resources for scholars. In 2009 Charles Manson took up position of Tibetan Librarian left vacant after Ralf's return to Germany. Charles has worked to complete the Trace spending program with the last Trace acquisitions being made in 2013.
The Aris Library for Tibetan and Himalayan Studies collection, one of the few collections in the Bodleian Libraries that is an "access" or browsing library, focuses on material in Tibetan language, and as such is a vital part of the Bodleian's Tibetan language holdings.  In addition to modern Tibetan publications, the Bodleian holds a collection of Tibetan manuscripts numbering 200 items, the earliest dating from 1688.
Over a period of thirteen years, the funds from Trace were also used to purchase
1,082 books for the library in Tibetan, English, and other European languages.
10,000 Tibetan texts from Tibetan Buddhist Resource Center.
about 36,000 microfiches of Tibetan works acquisitioned by the Library of Congress in India, Nepal, and Bhutan from the 1960s to 1986.
and much more.
"With the generous support of Trace Foundation, it has been possible for the Bodleian Libraries to build one of the major Tibetan library collections in Europe and support Oxford University's growing research and teaching needs in Tibetan Studies." —Dr. Gillian Evison, Head of the Bodleian Libraries' Oriental Section and Indian Institute Librarian
"Trace Foundation's financial involvement with the Aris Library has been a blessing for Tibetan studies at Oxford and the carefully glued bookplates will remain where they were put, a fitting memento of a fruitful partnership." —Charles Manson, Tibetan Subject consultant librarian of the Bodleian Libraries in Oxford