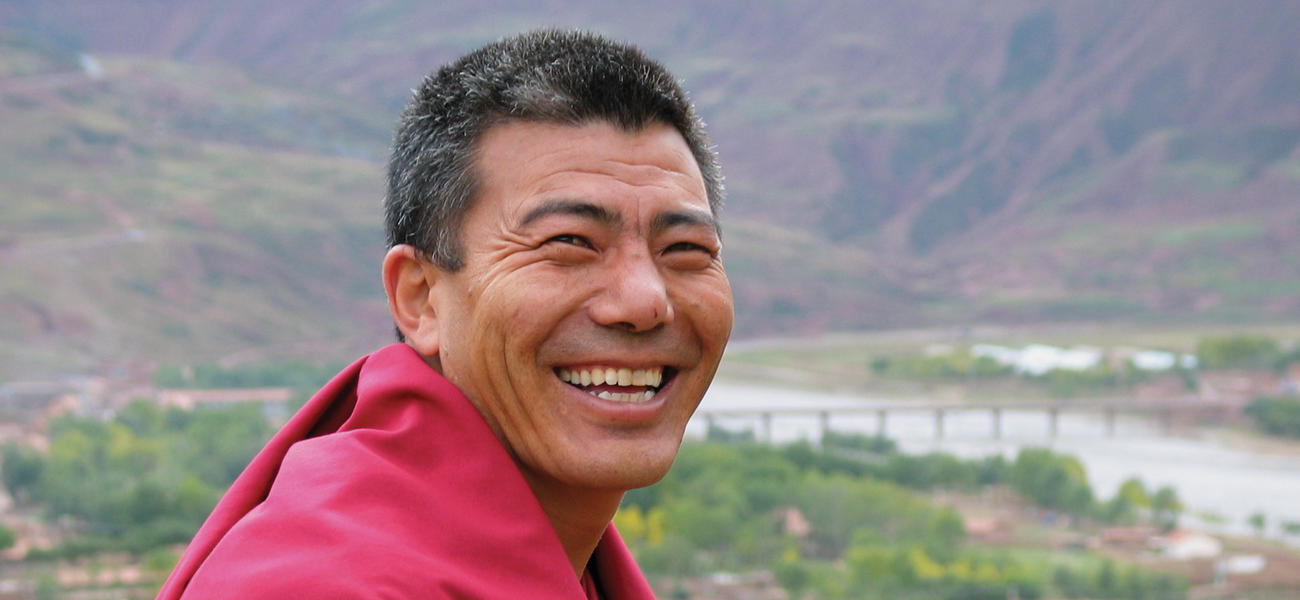 Jigme Gyaltsen, a senior monk and educator at Ragya Monastery in Qinghai Province, is a longtime partner of Trace Foundation. Until 2008, we supported his projects promoting education and development. In 2000, we launched The Tibetan Yak Cheese Project, designed to produce a European-style cheese from the excess milk of the herds of local Tibetan nomads. In addition to providing a source of income for the nomads, the profits made from the sales supports two schools founded by Jigme Gyaltsen himself, The Jigme Gyaltsen Nationalities Vocational School (1994) and The Prairie Talent Girls' School (2005). In May of 2010 we sat down with Jigme Gyaltsen for a short conversation following Local Knowledge & Sustainable Development in the Himalayas, a two day conference at Trace Foundation .
"I started the Jigme Gyalsen Nationalities Vocational School in 1994 out of a wish to contribute to the promotion of Tibetan culture and education," he says, explaining his unique role as a monk headmaster of a secular school. "In general," he continues, "as a monk I should focus on monastic studies, uphold relevant rules and regulations. If I could practice meditation that would be wonderful, but if not, as a monk, I try to undertake things that are beneficial to others."
Of the many social issues Tibet currently faces, Jigme Gyaltsen decided to focus on education due to his belief that "for a nationality, a region, or a country the foundation of its development rests on education." His commitment to economic and social development through education is thoroughgoing, and in 2005, unable to offer instruction to girls on the grounds of the monastery, he opened a second school—The Prairie Talent Girls' School—specifically for girls. "Girls' education," he asserts "is mothers' education and mothers' education is the initial education of all human kind."
Jigme Gyaltsen's efforts to promote open education can further be seen in the makeup of his student body. Despite The Jigme Gyaltsen's Vocational School's monastic setting, it welcomes lay students and they form a substantial portion of the student body. For both lay and monastic students an education at The Jigme Gyaltsen Vocational School or The Prairie Talent Girls' School is a unique opportunity to learn both about traditional Tibetan culture, as well as what Jigme Gyaltsen calls "the cultural knowledge of this new century." Using the centuries-old techniques of Buddhist debate to teach contemporary subjects, the traditional is never far from the modern at these schools.
This fusion of the old and the new, the local and the global, which is crystallized in The Tibetan Yak Cheese Project, underlies all of Jigme Gyaltsen's efforts as he seeks to create "a model that unites tradition with modern culture and promotes them simultaneously." By embracing the region's cultural and physical assets, Jigme Gyaltsen seeks to help Tibetan communities grow in a way natural to their culture society and environment.
Many challenges, however, remain to the development of what is still largely a small-scale society facing today's global markets. "In today's Tibet, most families manage their own businesses," explains Jigme Gyaltsen. "In the case of farmers, each one cultivates his own land, and sells his own barley. Therefore, each family has to have a businessman, and that's very hard to accomplish." With this in mind, in 2009, he started The Snowland Animal Husbandry Development Association to promote the efforts of small cooperatives of herders. These cooperatives actively work to promote and enhance local products, as a means to protect and revitalize local culture. By banding together, these individuals have been able to gain access to larger and more distant markets, providing greater stability and long-term sustainability.
Ultimately, Jigme Gyaltsen believes that these small groups of nomads, rooted as they are in the land and the local community, hold the greatest potential for the future development of Tibetan areas. "At times, there may be sporadic development, but being sustainable and beneficial at all times is very important. From our Tibetan perspective," he explains, "to our thinking, or in our religious beliefs: we believe in many previous lives and many future lives – until we achieve enlightenment – and we plan everything according to that mindset."