Little School in the City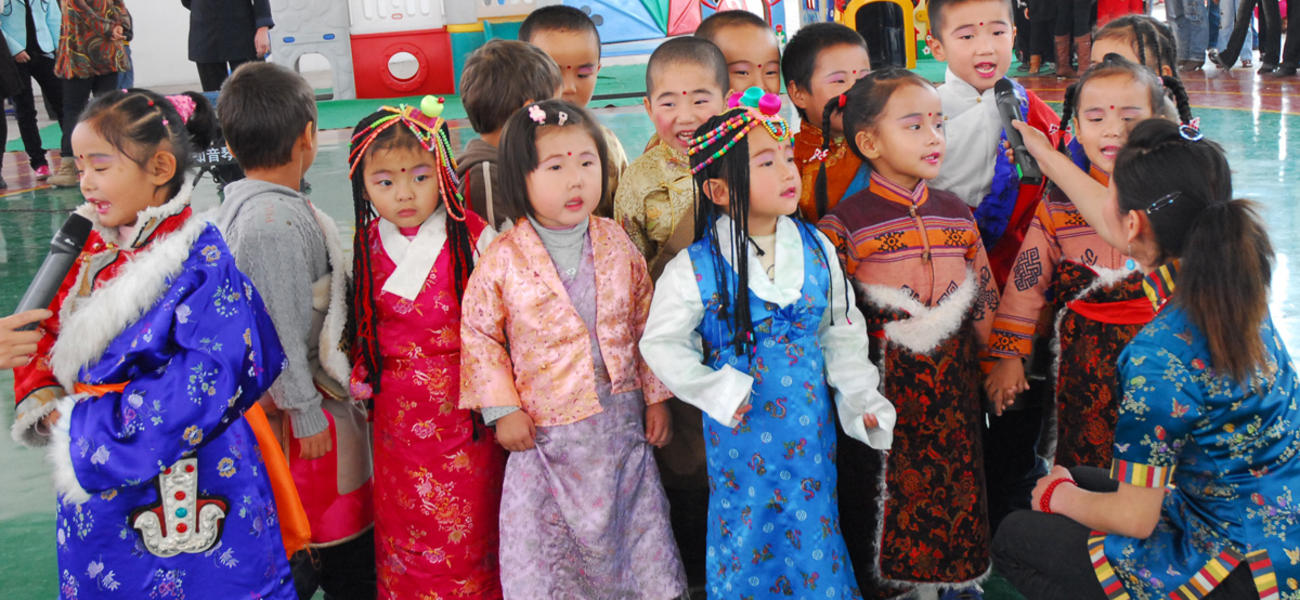 A short, stocky man with long dark hair Humchen appears, at first glance, to be quite ordinary, but he's a man with a mission. In Xining, the provincial capital of Qinghai, Humchen has been hard at work ensuring that some of the city's youngest residents maintain a foothold in their traditional culture amidst rapid development and urbanization.
Surrounded by mountains, the large, bustling city of Xining, on the northeastern edge of the Tibetan Plateau has long been a meeting point for the diverse cultures of western China. The city is made up of an amalgamation of Han, Hui and local minorities such as the Tu and Mongols. In addition, apart from the 40,000 Tibetan people officially working in the city, there are currently thousands of Tibetan businessman and itinerant workers in Xining as well.
The majority of the Tibetan children living in Xining are products of the mass migration of labor taking place in China. Their parents have moved from their native homes to find work in regional centers, like Xining. Children are often left in the care of family members, or in daycare programs where Chinese is the dominant language. Due to the lack of Tibetan-language classes and schools, most Tibetan children who grow up in the city attend Chinese schools, and can neither speak nor write Tibetan properly.
This problem hit home for Humchen when his young son began kindergarten in 2008. He discussed this issue with several of his friends, and quickly discovered that each of them had the same worry. After much discussion, Humchen and his friends determined that a Tibetan-language kindergarten would provide an ideal environment to educate the Tibetan children of Xining about their own culture. This group of concerned parents, however, lacked the funding to rent space, hire teachers, or purchase teaching aides, so, in the spring of 2008, Humchen applied to Trace Foundation for support for a kindergarten for Tibetan students in Xining.
Humchen had previously become acquainted with the Foundation through a series of publishing projects, focusing on local customs and folklore, that Trace had supported. Humchen's application was approved that spring, and with the initial funds he was able to rent a classroom in a local kindergarten on a short-term basis, and to begin advertising for teachers. With assistance from Trace, the Kindergarten now employs four bilingual experts in early childhood education, and caters to students ranging in age from two to six.
The class is held in a three storey cream-colored kindergarten with large windows in the vicinity of the International Village. The building has a small open courtyard, covered with colorful protective matting and containing new, brightly colored, sturdy plastic playground equipment. The Tibetan children make up just one of several classes held in the large kindergarten. Their classroom is decorated with colorful plastic cards with the letters of the Tibetan alphabet and some simple words, photos of the children, and pictures related to Tibetan culture and customs. Along one wall, below the large-paned windows, was an orderly array of Montessori teaching materials, created by the non-profit publishing collective Tibetan Arts and Literature Initiative (TALI) with support from Trace Foundation. The kindergarten teachers all wear traditional Tibetan clothing each day, and classes explore Tibetan culture and the basic subjects in equal measure.
The ten students in Xining's first Tibetan kindergarten have much in common with kindergartners around the world. They're energetic, and eager to discuss their diverse dreams, including becoming painters, drivers, and government officials. The students have varying levels of Tibetan proficiency. One four-year-old girl whose father is a Tibetan businessman in Shanghai, lives with her Han mother and her father's family in Xining. One of the newest students in this class, she has made rapid progress in learning to speak Tibetan.
Others have had similar experiences. According to one mother, before she sent her young daughter to the Tibetan kindergarten, her daughter spoke Chinese with her at home despite repeated attempts to encourage her to speak Tibetan. Now, her daughter speaks Tibetan fluently, occasionally even correcting her parents.
Running the kindergarten is not, however, without its challenges. One teacher, originally from Tsekhok County in southeast Qinghai, emphasized the differences between teaching higher levels and young children. With younger children, she asserted, it is important to build play and entertainment into education. Relying on the deep resources of Tibetan culture, however, she has been able to enrich lessons in writing, drawing, speaking and listening.
Humchen has been eagerly building upon his initial success, appearing on television, and holding trainings for kindergarten teachers from the Tibet Autonomous Region (TAR), Gansu, Sichuan, and Qinghai. Recently, together with TALI he was able to initiate a column in the Tibetan paper in Xining especially for children. Humchen hopes that his work will encourage the establishment of Tibetan kindergartens in other cities and areas with a large Tibetan population. What children learn between the ages of two and six, he emphasizes, will affect their whole life. Giving them an understanding of their own culture and background provides them with a firm basis not only for their future development as individuals, but for the rest of their education, and it is only education, Humchen says, that can bring about the development of the Tibetan regions of western China.