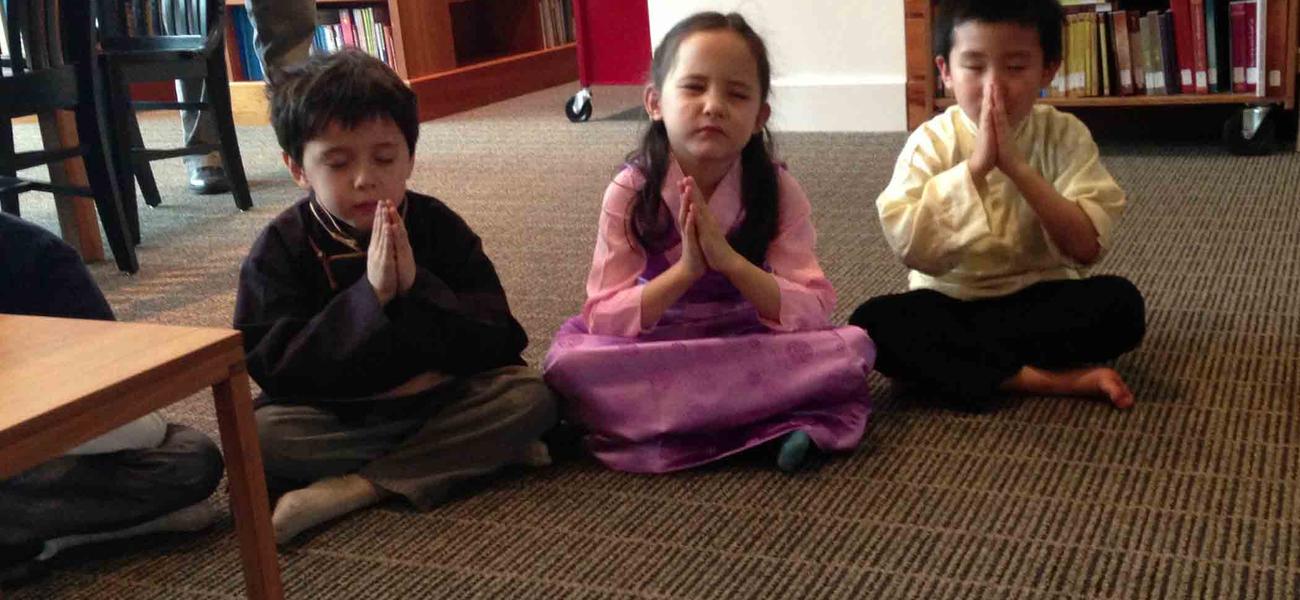 You can hear them before you can see them: they thunder up the stairs like a stampede of little yaks, only louder—parents trailing close behind, shaking their heads, and smiling. It may be a frigid, rainy February Saturday morning in the West Village, but inside Trace Foundation's Latse Library, the ten children who have braved the elements for our biweekly Children's Class are as animated as ever.
Aged three to six—some American, some Tibetan, some boisterous and others shier and more observant—this week they're wearing chuba, colorful traditional outfits to celebrate Losar, or Tibetan New Year.
Their teacher, Tsechoe, also dressed in traditional garb, corrals them into the children's section of the library, a special corner complete with a colorful rug, blackboard, a large teddy bear that dwarfs the smaller kids, and a one-of-a-kind collection of Tibetan children's books.
Today is the first class after Losar, the Tibetan New Year, so jumping in at the first quiet moment, Tsechoe asks the children, "What do you say for the Tibetan New Year?"
The Reading Room erupts as children compete to be the first to answer: "Losar Tashi Delek!"
"That's right! In Amdo, we say 'Losar Bzang' or 'Losar Tashi Delek!'" Tsechoe opens her iPad to show the children pictures of Tibetan New Year dress and Losar greeting cards.
Moving to a blackboard with the Tibetan alphabet, she asks, "How many letters in the Tibetan alphabet?"
The answers to this question are more varied: "thirteen!," "eight!," "sixteen!," "twenty-four!" There's only one way to settle the matter: together, they count off the letters and land on the correct number (thirty).
Teaching these young kids Tibetan is one of the biggest challenges for Tsechoe, a mother of two young girls herself. "Since the children's class happens only every other week and sometimes once a month—and there's a big gap in summer—it seems like we're doing the alphabet the whole year," she laughs.
Whatever the challenges, though, she continues, the children's class is a "great place for little kids of similar backgrounds to get together. Latse Library becomes a playground, a learning ground where kids can interact with one another. New York is such a big city, and all these kids are isolated. This is a great space for parents and for the kids to meet one another."
The Children's Class got its start in 2005 when Lauran Hartley, a parent and Tibetan Studies Librarian at Columbia University; Tashi Yangzom, a Tibetan medical doctor; and Kristina Dy-Liacco, librarian here at Trace Foundation, saw a need for a program geared toward young Tibetan children. The Tibetan Community of New York and New Jersey offered weekend classes for kids ages five through eighteen. Another great program, Diki Daycare, hosted classes for children ages six and up. For many Tibetan parents with younger children, however, options were more limited.
The Children's Class at Trace Foundation was a boon for these parents.
"Without a sense of belonging, without instilling the pride, without discovering the fun in learning, and above all without the opportunity and an environment conducive for such learning with other children, it often becomes difficult for the little ones to stay the course," one parent, Sonam Ongmo, wrote a few years ago in our library newsletter. "The program at Latse has taken care of most of these challenges by bringing children and parents together to learn, appreciate, socialize and celebrate their language and traditions. It has also managed to help them strengthen their identity as Tibetans."
Many of the activities Tsechoe prepares for the children revolve around important Tibetan holidays, and today is no exception. Bringing the class back to the topic of Losar, she holds up a vibrant set of miniature prayer flags and explains that Tibetans hang these from their roofs each New Year while saying prayers that all sentient beings experience no suffering, no pain.
She asks the kids to help her list off the colors of the flags decorated with the six-syllable mantra (Om mani padme hum). She holds up each flag in turn. "The sky is blue," she says in Tibetan, then translates to English. "The cloud is white. The fire is red. The water is green. The earth is yellow."
The kids get their own sets of miniature prayer flags, which they each hang from a small tree and join our librarian Lobsang Tengye in a chant and meditation. Then, rumbling back downstairs to our offering table—where bowls of dates, sugar candy, dried persimmons, sweet rice, dried apricots, dried peaches, raisins, and fruit; tiger lilies; and a pitcher of fragrant saffron water have been set out—they toss tsampa (roasted barley flour) in the air.
Tsechoe demonstrates: releasing a pinch of flour between her fingers, she calls out "Tashi Delek, phun sum tsok!" and makes a wish for the New Year. "If you have any tsampa left at the end, you can put it in your mouth!" she adds, smiling, helping each child reenact this traditional gesture.
It's hard to believe the class is nearing an end. Everyone moves into the kitchen for the crowning event: Trace staff have prepared a big bowl of sweet rice. The rice—mixed with a rare root found only on the Tibetan Plateau, and melted butter—is eaten ceremoniously during Losar for good luck and prosperity. The white color of the rice and sugar symbolizes purity. The root's unique name (droma in Tibetan) connotes heartwarming and auspicious beginnings. And on occasions like this one, droma dresil is a must-eat.
As one mother pours juice into the children's cups, a boy asks here whether they're going to drink butter tea.
"No," she laughs. "Just juice."
Bellies full, the kids are eager to get home for their weekend activities, so everyone says good-bye until the next class, when the kids will be introduced to abchug, colored sheep knuckles used in games, and have the chance to play sho, a traditional game of dice.
"It's so nice to see all these kids who love doing these activities that are part of their culture—surrounded by all these books on Tibet," Tsechoe says in conclusion. "Bringing kids closer to Tibet and closer to Tibetan culture is a huge reward."
---
Trace Foundation's Children's Class is for children ages 3–6. In the program children learn basic language skills in Tibetan through games, songs, stories, and cultural activities. The class meets every two weeks on Saturdays, from 10:30 a.m.–12 p.m. and follows the school year calendar. To register, please call 212-367-8490 ext. 18, or e-mail us.
This program is free and open to all children but is conducted mainly in Tibetan. We look forward to welcoming new students and parents! If you don't have your own little ones or can't participate in the program, be sure to follow us on Facebook, where we regularly post pictures and videos of the children's class. The Children's Class is just one of the many ways Trace Foundation is strengthening Tibetan communities by investing in the futures of Tibetan children, language preservation, and early education.