A Tour Through Tibet's Writing Arts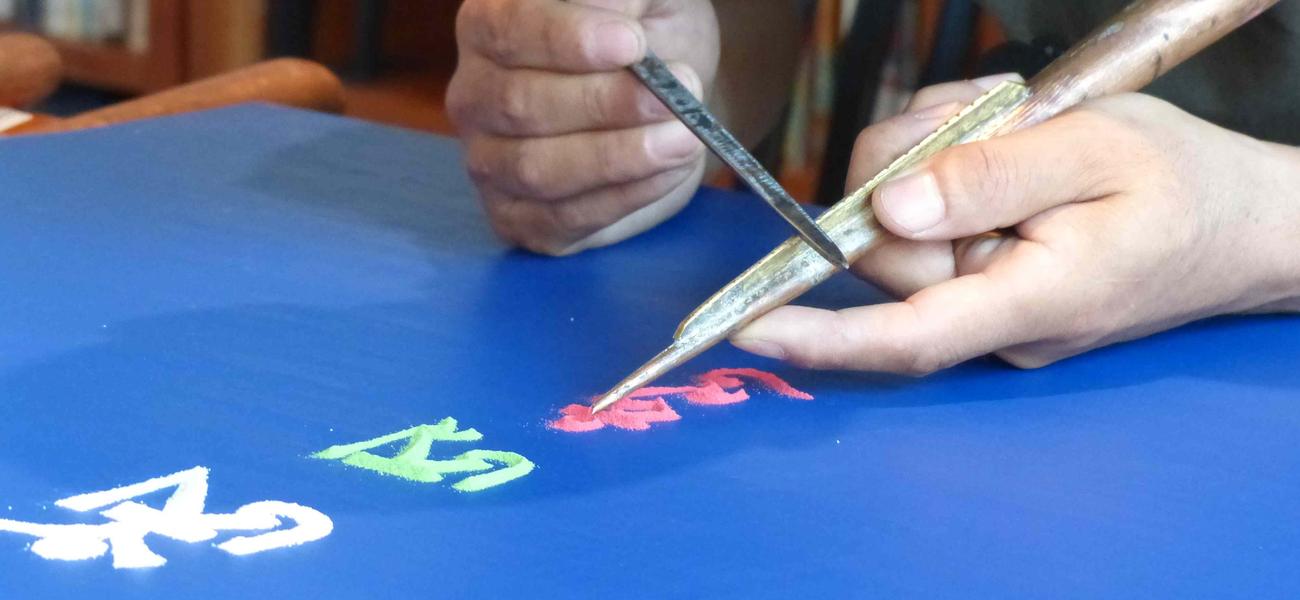 Modern and Classical Tibetan Calligraphy
He smiles as he unfurls his work: huge white banners (two and a half feet across and nearly five feet in length); gorgeous collages layered with German newspaper clippings and Tibetan calligraphy; and a small red-white-and-gray triptych that reads "past, present, future" in Tibetan.
"That one means 'lungta' (རླུང་རྟ་)," he says, pointing to one of his banners. "Literally it means 'wind horse' and is a type of Tibetan prayer flag. When the flag waves in the wind, the horse rides out, spreading good luck."
Phuntsok Tsering has traveled to the United States for the first time from Frankfurt to show us his gorgeous calligraphy and give a talk on the ancient form. The Reading Room of our library is filled with young and old on the day of our event "Paper & Ink: A Day of Calligraphy, Sand Painting, and Paper Making."
In the front, backed by his large banners, Tsering talks about the origins of the Tibetan writing system: two Bönpo scripts known as mar chen and mar chung, as well as the many styles that developed out of these scripts: the cockcrow style, the pearl-bead style, the square-brick style, the rising lion, the rat square, the scattered-grain—and the list goes on.
Then, Tsering describes his own work. The banners behind him are examples of more classical calligraphy, some of them combining multiple words to create new meanings. But he's also known for his arresting collages. "Wanderer Through Time," a collage—blocks built in a sideways pyramid from right to left—depicts the artist's life in German and Tibetan, from the Snow Mountain of Tibet where he was born, to life in exile, and finally to what he calls his life as "a homeless wanderer." This was one of the first pieces to sell.
Painting with Sand
Tsultrim Gyatso takes off his baseball cap as he hovers in close to a board, rubbing a chak-pur—a ridged metal cylinder for creating sand mandala—with a small metal rod. The room fills with the frantic rattle that means colored sand is spraying out the tip.
The sand he's working with today, he explains, is too coarse. The best sand, the sand that didn't arrive in time, comes from Tibet—a special type of shiny rock that can be found nowhere else. The sand you get other places is too coarse and disperses too much.
Born in Ngaba, Gyatso was once a monk at Gomang Monastery where he undertook traditional studies, as well as training in making sand mandala. He continued his studies at Ganden Shartse Monastery in India from 1989 to 1999. Recognizing his high skills in sand mandala, his monastery sent him as one of a group of monks on a tour demonstrating the art. Today, he lives in New York City.
Mandala artists go through intense training, he tells the audience, as he rubs the chak-pur to create the character "om." The first three years of training alone are devoted to basic mandala structure, and students work with a special dirt mixed with yak dung. They must master each stage of training or repeat it until they've gotten it right. Unlike the simple characters he's constructing now, traditional mandalas can be as high as three inches and typically measure four square feet. Gyatso's biggest mandala—at six square feet—took him ten days to create.
"You have to be careful with your breath," he warns the audience. "It can easily destroy your design." A few moments later, he answers the question on everyone's mind and shows us how to correct mistakes: by sucking the sand back up through his chak-pur.
As soon as he finishes creating three sand characters in a vertical line, he reaches for a towel to wipe the sand away. Only at the last moment does our librarian stop him to give the audience a chance to look closer.
"After spending so much time working on something, the moment of destruction always brings with it a sadness, a regret, emptiness," he says, smiling. "Then I reflect on the purpose of the mandala, and I'm comforted."
The Origins of Tibetan Writing
Up next is our expert on Bönpo scripts: Kunsel Dawa, a young man with hair buzzed on the sides, wearing a loose-fitting gold shirt and prayer beads around his wrist. He studied at schools and monasteries till the age of twenty-five. Then, under the renown scholar Alak Bongya, he mastered calligraphy, including the Bönpo scripts of mar chen and mar chung. In 2003 and 2004, he participated in a number of calligraphy competitions, for which he was awarded first- and second-place prizes. He then moved to India, where he's participated in other competitions in Tibetan-language composition and calligraphy.
He explains that no one can agree when Tibetan writing first came about: some say three thousand years ago, others as much as thirty thousand. According to legend, it was created in the Shang Shung Kingdom, in parts of what are today Turkey and Iran.
Picking up were Phuntsok Tsering left off, he then describes the two ancient Bön scripts mar chen and mar chung. Dipping a bamboo pen in a bowl of ink, he begins painting mar chung, the script most similar to Tibetan writing today.
Raising his hand in the air, he demonstrates the correct way to hold the bamboo pen: between two fingers, spaced out enough that water could pass through them, and the palm open enough that you could hold an egg.
Assuming this posture, he draws out five characters—the first in the mar chung script and, below them, the corresponding characters in modern Tibetan. Once he's pointed out the differences, he explains that the rest of the thirty Tibetan letters are nearly identical and invites the audience to take a closer look at the stark black characters drying in faint lines and pearls of ink on the page.
Making Paper
While pulp is brewing in the kitchen downstairs (it looks like spaghetti and smells like oatmeal), Jim Canary, cofounder of Paper Road/Tibet and the head of conservation of the Lilly Library at Indiana University, stands in front of the Reading Room, explaining the traditional process of paper making in Tibet. He is a tall man, with a long white beard, a single white braid down the back, and warm, disarming smile, and the moment you lay eyes on him, you know he's an expert at what he does. In addition to being a book conservator, Jim Canary is a scholar on Tibet, Tibetan paper, woodcuts, printing, bookbinding, and book conservation. He's traveled many times to the Himalayas to research everything that goes into books, from the paper to the ink, glue, and binding.
"In 1995," he starts, "I heard that the paper-making tradition didn't exist in Tibet anymore." So on one visit to the Tibetan Plateau, Jim sought out an old papermaker who could teach him the craft. And out of those lessons Paper Road/Tibet was born. Trace Foundation was proud to have supported this organization, which is dedicated to teaching traditional paper-making skills to different groups in Tibet—schools and orphanages—and providing people with a source of income and self-sustainability. Jim Canary holds up a stubby brown root now. "This is the root of a plant called rechapka. The root is poisonous, so paper made from it helps keeps bugs and rodents from eating it and ensures the paper has a long life."
Another type of paper is made from the young shoots of a daphne plant. To prepare traditional Tibetan paper, he explains, papermakers remove the outer bark of a tree and scrape it with a knife until they have only the "intermediate" bark. This goes into a barrel, where it is cooked until it gets so soft you can pull it apart. Using a wooden mallet, the artist then beats it until it resembles tsampa.
"This makes a very, very strong paper," he continues. "And that's why many Tibetan books have lasted for many generations." It's a primitive art at the same time it's remarkably advanced.
"After we've got that pulp material then we get a vat of water, a big tub of water, and we make a screen," he continues. "We lay the screen down on the water. And take the pulp—that's the pulp made from that piece of bark—and we distribute it on the screen. So it's a very fine layer formed by the screen."
After extracting any little impurities in the pulp and letting the water drain, the screens are set out in the sun to dry. After it's dried, the artists turn the screen over so that it's even and tap it like a drum.
Finally, Jim describes some of his related interests. He holds up a dark leaf of a pecha and explains how its surface lacquer is made of glue; brains; and soot, which then form a briquette used to paint the paper. For gold ink, artists combine gold with flaxseed as a binding agent, and then dye the edges of the pecha with indigo. Using a fluorescent X-ray, Jim can analyze these and other elements present in ancient books—sometimes lead or mercury, sometimes vermilion.
Before rolling up his sleeves and taking the group outside for a demonstration, the audience has one question:
"What kind of brains?" one woman asks excitedly.
"Yak, sheep, or goat," Jim answers with a big grin.
As the audience circles around him outside, he pulls a handful of spaghetti-like pulp from an oversize pot and shows the audience how to pound it with a mallet until it's soft. Young and old visitors alike line up at the terrace wall to try their hands at pounding the bark, and when they think they've had enough—or at least the pulp has—they race back to Jim to ask whether they've gotten the right consistency. Sometimes he nods and adds it to a growing mound on the glass picnic table; sometimes he sends them back for more hammering.
Once everyone's exhausted, leaving a mountain of pulp in their wake, Jim demonstrates the final stages of papermaking: floating a cheesecloth-covered frame in a tub of water and distributing the pulp until it's even. The only thing left is to set the frame out in the sun to dry. On a humid day like today, that can take a while, Jim explains, so the artists and guests return to the library, where they are invited to buy handcrafted paper, purchase calligraphy, spell out their names in sand, and make bids on the gorgeous artwork on display.
---
We were thrilled to host these artists and experts on the Tibetan writing arts as part of our public programming through Latse Library, and as part of our ongoing commitment to Tibetan art, the Tibetan language, and cultural preservation. Thank you to everyone who made it out for the event. Some of these pieces are still available for purchase. Check out the gallery of work on our website and contact us at events@trace.org if you're interested in making a purchase.