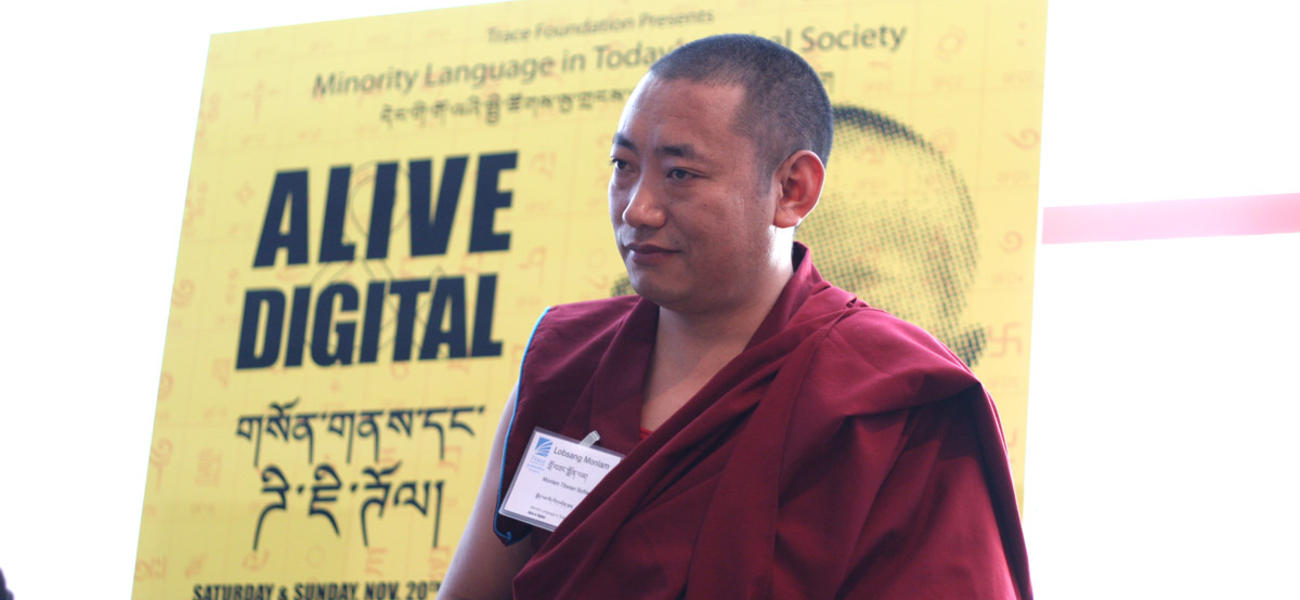 Drawing on his passion for Tibetan arts and his interest in computers, Lobsang Monlam created one of the most popular, and best looking, Tibetan fonts yet released. He followed that effort up last year with the new Standard Tibetan Language Software, a program designed to help both Tibetans and foreigners learn Tibetan. We caught up with him over email to find out more about these projects and what he's working on now., Lobsang Monlam created one of the most popular, and best looking, Tibetan fonts yet released. He followed that effort up last year with the new Standard Tibetan Language Software, a program designed to help both Tibetans and foreigners learn Tibetan. We caught up with him over email to find out more about these projects and what he's working on now.
Trace Foundation: Please tell us about yourself and how you first began to learn about computers and computer software.
Lobsang Monlam: I am a simple monk. I was very fond of drawing and machines when I was a child. After I completed primary school, I was ordained as a monk and lived in a monastery where I studied Buddhist philosophy, tantra, and various ritual performances. In my spare time, I studied traditional Tibetan arts and played around with damaged machines and electronic products. After arriving in India, I joined the Serame College (སེ་ར་སྨད་གྲ་ཚང་།) where I studied Buddhist dialectics for 17 years. Regarding computers, before I came to India, I had never seen one, let alone touched one before. At Serame College, there was a computer department. I thought a computer was a very strange thing and I became very fond of them. I was able to purchase my own laptop in 2003. The man who sold me the computer showed me how to turn the computer on and off. I played around with it for some time until I was able to use it. I had been thinking a lot about how computer programs and applications were created, and I did a number of experiments with them. At that time, there were no ume (dbus med) fonts available. So, I began studying fonts and doing research on developing ume and uchen fonts. I am only able to gather information and materials that are needed for my work, otherwise I do not know anything about computer technical terms. My success on computer program development has been mainly accomplished through independent study and experiments. I had to work really hard and overcome many hardships.
TF: How has the growth of digital technologies impacted Tibetans? What role do you think these technologies will play in the future for Tibetans?
LM: In this century, digital technology has become part of our daily lives. Compared with developed countries, the impact of digital technology on Tibetans is relatively small and not extensive. However, in comparison to smaller communities, the impact in only a few years has been great and the progress is remarkable. To preserve the Tibetan language, there must be an appropriate forum for its use, and we must use it accordingly. There also must be proper conditions for its use. I see this as particularly important inside Tibet. Digital technology is not only important for language continuation, but also for Tibetan political and religious work. Through digital technology, Tibetan issues and culture are presented to the world. In the future, if we are able to create a self-sufficient technology for Tibet, it would be a great contribution to the preservation of Tibetan culture and language.
TF: The Monlam Tibetan fonts have been well received by Tibetans. What makes your fonts different from other Tibetan fonts, and why do you think they've been so successful?
LM: From a dharma practitioner's point of view, I serve the Tibetan people by preserving the Tibetan language. Our cultural heritage is dependent on this language. As I work hard on these projects, my motivation is pure, which is very important here. In addition, as an artist I have the advantage of drawing Tibetan characters in different shapes, which also helps. Although I am not an expert on Tibetan culture, I still have a good understanding about Tibetan culture. I am also creative, so I am able to use Monlam fonts in certain applications where other Tibetan fonts did not work. We have produced different versions of Monlam fonts and were able to improve our products. Compared with other fonts, we have more varieties and types. Among the Tibetan fonts available today, the Monlam font is more compatible with non-Tibetan fonts, including Chinese and English. Monlam font is more stylish, and can be used for many applications and different operations. Monlam software is a small contribution from an individual to the larger community, and it is not related to any political or commercial interests. I think for these reasons the Monlam products are well received by many people inside and outside of Tibetan communities.
TF: In modern typography in many languages, font designers have developed identical character shapes in a wide variety of stroke weights (from hairline to bold), and similar character shapes that take up more or less room (condensed and expanded fonts) to allow for a wide variety of typesetting applications. Tibetan font developers, however, have largely avoided this trend. Do you think this style of typography is relevant to Tibetan? Have you ever thought about producing similar fonts?
LM: Of course, I've thought about this and I did some tests as well. In the fourth Monlam package, there will be a few additional fonts. I agree that there should be different variety of fonts and types. Like a garden, if there is only one kind of flower, the beauty of the garden is limited to that single flower. The same is true for Tibetan fonts. There is no difficulty in creating different types of fonts. However, I am also engaged in much needed work on other projects, so I plan to improve the fonts gradually. I am not able to do all these things at once.
TF: Your most recent project is called Standard Tibetan Language Software. Can you describe what this software does, who it can help, and how?
LM: Monlam Standard Tibetan Language Software was produced after receiving feedback from Tibetans users, and is based on the central Tibetan dialect. The main purpose of this software is to inform users about the characteristics of words and letters: the throat or nose as the vocal source; the tongue, teeth or lips as the means of producing the shape of words; how to pronounce the word; and the gender of the letter. We primarily included literary words, but in some cases, we included certain colloquial words that are common cross-regionally. We included pronunciation for individual vocabulary as well as sentences. This pronunciation was based on a standard we created due to the diverse pronunciations of words across Tibetan dialects, and was meant to retain the unique features of colloquial Tibetan. The source for this work was Sakya Sonam Tsemo and Sertok's work on Tibetan grammar and the Tibetan vocal system. I also did my own research on Tibetan pronunciation and sought advice from other scholars. Through this work, we created a standard pronunciation for Tibetan letters with superscript and subscript letters. This information is organized according to the traditional Tibetan system, [in which the process is explained before the results of study are revealed]. I am confident that we were able to introduce the Tibetan pronunciation system clearly in this software. For foreign students learning Tibetan, this software will be a very useful tool, and for Tibetans who are learning the central Tibetan dialect, we are certain that this software will improve their language skills within a few days. We plan to continue improving this software in the future.
TF: What is the most important and needed software in terms of digitalization of the Tibetan language?
LM: The Tibetan language still lags behind in the digital technology sphere. We are still only utilizing 5 percent of Tibetan's capacity with regards to digital technologies. The language can still only be used for word processing, on the Internet and a few other applications. We have need a comprehensive character, grammar and spell check software. We also need to develop software that reads Tibetan words properly; a computer operating system that can be used in Tibetan, and software to convert old Tibetan fonts to the Unicode system. I feel these projects are very important for the digitization of the Tibetan language. We also need Optical Character Recognition software for Tibetan, various databases in the Tibetan language, speech-to-text software for Tibetan, translation software between Tibetan and other languages, and translations of important websites to Tibetan; all this is also very vital for Tibetan language.
TF: What are you working on now?
LM: I am currently studying English in New Delhi. My inability to speak English has left 50% of my work useless. I am hoping to learn more about computer technology and implement more projects after improving my English. This year, I have no other major plans. I am planning to implement a larger project for next year.