On the Road with Pema Tseden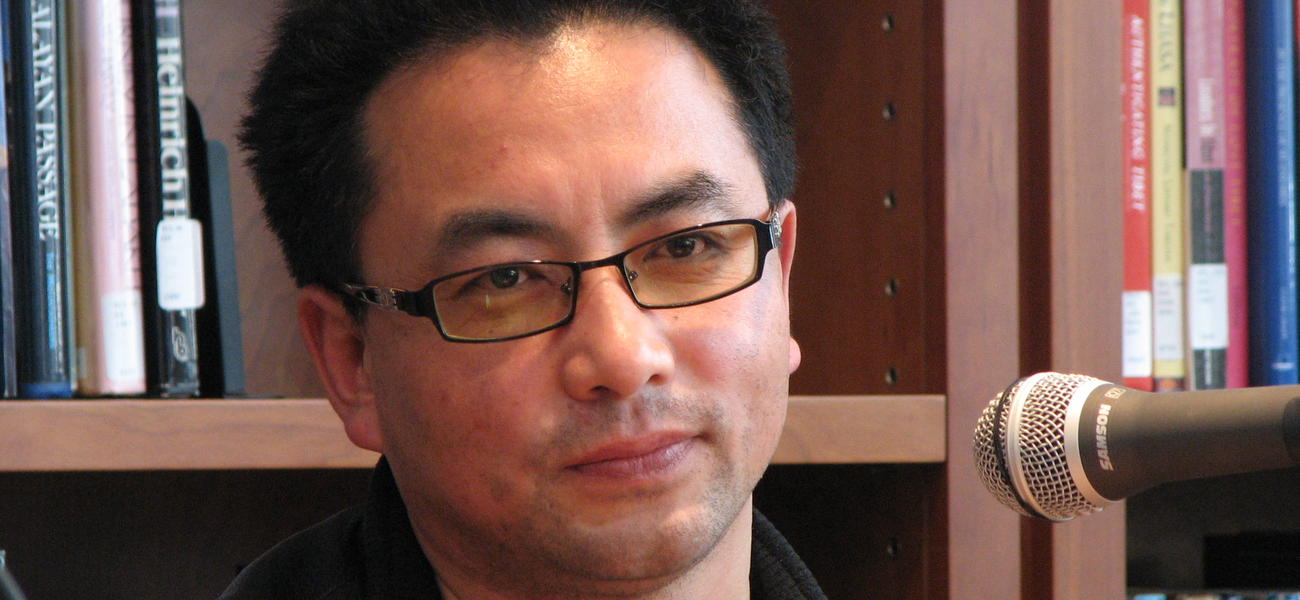 The low brown hills stretch on for miles under a clear blue sky. In the distance an SUV struggles along a dirt road, snaking through clusters of low mud brick huts, next to a winding muddy river. This is the opening of The Search, the second feature length film by Tibetan filmmaker Pema Tseden, and the first feature film to be shot entirely with a Tibetan cast and crew. Through the next two hours Tseden leads his viewers on a journey through a region of China rarely seen by outsiders.
Born and raised in Trika (Guide) County in Qinghai Province, Tseden reveals his homeland—and more importantly, its contemporary social life—in a uniquely authentic way. His latest production, The Search, demonstrates Tseden's disenchantment with the exoticization of Tibet in film.
In 2005, as China celebrated one hundred years of film history, Tibet's had only begun to surface. Though the diaries of British missions to Tibet record the existence of a few projectors and film cameras in Tibet, and the wild popularity of Charlie Chaplin in the Barkhor as early as the 1930s, it would be nearly eighty years before the first Tibetan-made film, Tseden's first feature The Silent Holy Stones (2005), would be released. Although this can be considered a significant point of progress for the region, Tseden feels this can hardly be considered a positive landmark as "it took 100 years for a film that really reflects Tibetan life to appear."
That an authentic representation of Tibetan culture should be Tseden's goal is, perhaps, no surprise. One of three children born to nomadic parents on the high pastures of Qinghai Province, Pema Tseden was the only one to have completed his education. "From a young age," he says, "I studied Tibetan culture. Everything from my elementary to university education has been about Tibetan culture."
Though Tseden had enjoyed films since childhood, particularly the slapstick comedies of Charlie Chaplin that had been so popular in the Barkhor, it never occurred to him that he might one day become a filmmaker himself. Initially, like many other young Tibetans, a literature and language student, Tseden's path to becoming a filmmaker has been anything but direct, leading him through teaching, writing and academic research.
After graduating from Tsolho (Hainan) Nationalities' Normal College in Chabcha, Tseden taught for four years in his hometown. He later went on to Lanzhou to Northwest Nationalities University (NNU) to obtain further training, before returning home to work for five more years. When an opportunity emerged to return to NNU for two years as a graduate student Tseden had no idea that it would change his life. During his second year as a graduate student in Lanzhou, Tseden first learned of the Beijing Film Academy, the prestigious institution that has turned out some of China's most successful filmmakers including Chen Kaige, Jia Zhangke, Zhang Yimou, and Tian Zhuangzhuang, who would provide key production support for The Search.
"My friends and I had all seen many movies on Tibetan culture. However, most of these movies don't portray Tibetan culture, the way of life and value systems properly. We felt that it would be good to see someone who has lived and experienced that culture himself make a movie representing that real experience. Everyone shared that view." Lacking the financial means however, Tseden had little hope of attending the academy.
"In 2000 I heard about Trace Foundation through some of my friends who worked there," he says. "At that time not many people knew about Trace Foundation's grants and scholarships." In 2002, Tseden applied for a scholarship through Trace Foundation with the intention of studying filmmaking. Excited by Tseden's qualifications as a student and a teacher and by the prospect of supporting the first Tibetan filmmaker to attend the Beijing Film Academy, Trace Foundation approved the application. In his first two years at the academy Pema Tseden produced two short movies, The Grassland and The Silent Mani Stones, which was later expanded to a full-length feature of the same name. These first shorts were internationally recognized and awarded.
In 2006 Tseden returned to the Beijing Film Academy to focus on directing. Shortly thereafter he commenced work on The Search (2009), his most acclaimed work to date. This film-within-a-film narrates a Tibetan director's quest to find actors to star in a movie based on the traditional Tibetan opera Prince Drimé Künden, about a young prince who sacrifices everything—even his eyes—to help others. On his journey the director comes face-to-face not only with the rapid changes occurring across the Tibetan plateau but also with immutable aspects of Tibetan culture, what Tseden calls "the fundamental principle of Buddhism in Tibet."
Like all his works, The Search focuses on "contemporary Tibet." Tseden stresses this point as he believes the global audience is too often unfamiliar with Tibet as an evolving culture. "Tibet has always been my theme," he says. "The perception of Tibet in the eyes of people who don't know Tibet well has not changed" from the politicized and romanticized films made in the West and in China: from Lost Horizon and The Serf to the modern day. For these reasons, Tseden says he has "intentionally avoided succumbing to [foreign] images...and emphasizes on reflecting the basic conditions of people in Tibet as well as their basic emotional life." But, in a culture facing such rapid changes this task is anything but basic.
For Tseden, film is the ideal medium for capturing the changes that are taking place in Tibetan culture, not just for outsiders, but for Tibetans as well. "For me," he asserts, "I want to create a new system of culture. Films are a medium of the new modern culture. But this is a new form of art in Tibet. So, be it exhibiting Tibetan culture, contemporary Tibetan lifestyles or traditional Tibetan wisdom, the art of filmmaking should become the basic system of presenting the contemporary culture."
While contemporary culture is his focus, he is not above borrowing a metaphor from the traditional Tibetan arts. "For my second movie, The Search, I have applied the same logic of painting and storytelling employed in a traditional thangka…[where] many stories, like the lives of the Buddha, can be expressed in a single painting." Accordingly, the film is full of extended wide shots and the environment the characters are in is often more important than their facial expressions. This unique style reveals both human conditions and relationships in the new Tibet while leaving the precise meaning of any shot open to interpretation.
Filmmaking in Tibetan areas of China is not, however, without its challenges. The rugged terrain and biting cold of Amdo winters can take their toll not only on the actors and crew, but also on equipment and film, which can't be allowed to freeze, one reason Tseden uses a digital camera. Filmmakers in Tibet can also face difficulties raising funds for authentic Tibetan films, due to a relatively small Tibetan audience and difficulties accessing them through distribution channels.
Additionally there is a severe lack of trained actors. This lack, however, has produced a significant side effect. "In my movies," Tseden says, "life in a monastery, and life in a village are portrayed according to my childhood experiences. Even though they're a fictional reflection of my experiences, the emotional depth in them, the life of a monk in a monastery, or a villager's preparation and celebration of the Tibetan New Year, they're almost all real."
These challenges, and the rich rewards of his efforts, have only encouraged Tseden to strive harder in his exploration of contemporary Tibetan society. Between traditional and contemporary arts, Tseden creates a unique portrait of the constant spirit at the heart of a rapidly changing region. Far from content to retire as the filmmaker who launched Tibetan cinema, Pema Tseden is determined to press on in his explorations of modern Tibet, and to continue to develop as Tibet's premier cinematic voice.