Tibet's Alchemist: Kesang Lamdark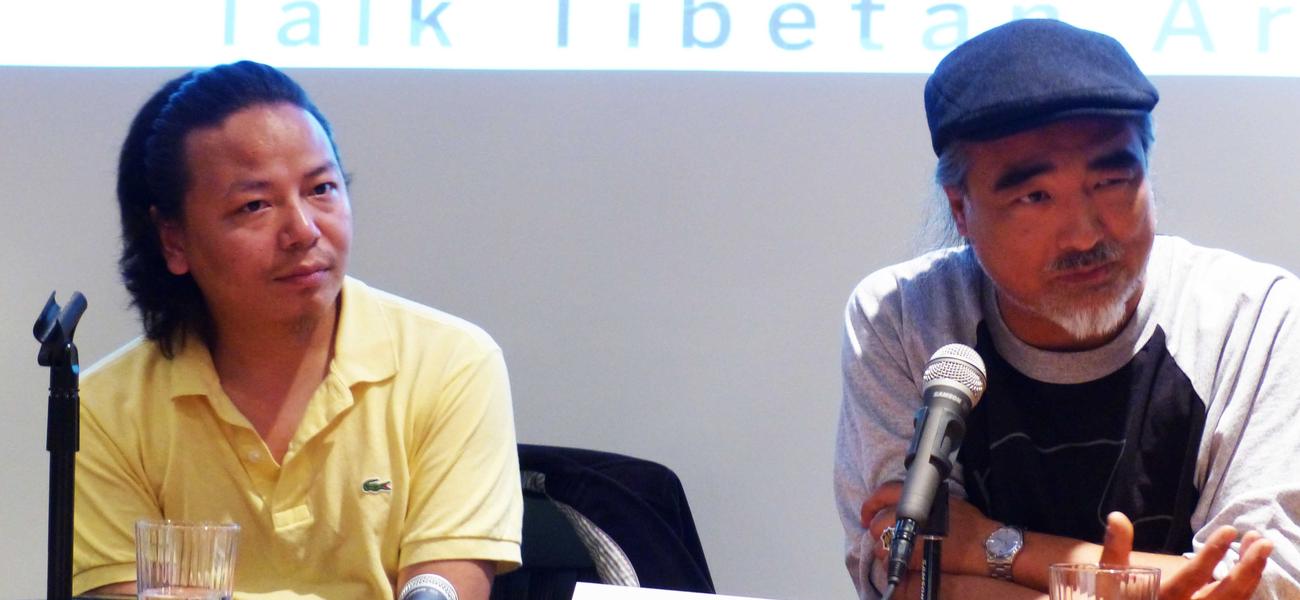 Whatever material he's working with, one thing is certain: Kesang Lamdark doesn't see the point in bothering with "old-fashioned stone-carving tools." He favors found objects, and his work incorporates every material from hot-pink PVC, disco lights, Lite-Brite boxes, nail polish, and Plexiglas to mirrors, hair, and butter. It's easy to understand why Rossi + Rossi curator Elaine W. Ng said in the gallery's 2008 exhibition Plastic Karma, Lamdark is "a bit of an alchemist."
You can see the influence of Dada in his work as much as you can see that of Pop Art alongside traditional Tibetan imagery, but to get a sense of what makes Lamdark's art so special, the best way to see it is in person.
And that's just what our packed library is waiting for on the warm October night when Lamdark sits down to discuss art, tradition, medium, identity, and much more with Tenzing Rigdol, award-winning Tibetan artist known for his own bold experiments: juxtaposing Buddhist symbolism and thangkas with Western iconography, Bollywood, pop music, and lottery scratch cards.
The son of a Drukpa (Bhutanese) woman and a Tibetan Rinpoche, Lamdark was born in Dharamsala, India, but came of age in Switzerland. There, his father, a lama, a "living Buddha," went to work at a factory, sending his son to live with a Swiss foster family who could teach him Swiss German.
When you know this, it's easy to see how his life—this life that straddled East and West—has informed Kesang Lamdark's art.
As long as he could remember, Lamdark says, he always wanted to be an artist, but he knew just how hard that could be. So when his Swiss foster father suggested he apprentice as an interior architect, he followed the advice—taking up technical drawing, designing everything from Lufthansa seats to BMW parking lots.
"Instead of learning at monastery schools and studying thankga painting"— Lamdark laughs, a nod to Ridgol's training as a thangka painter—"I got my practice in parking lots in Switzerland."
By his twenties, though, Lamdark was feeling increasingly disconnected from his Tibetan heritage. Around this time, half his face became paralyzed, and Swiss doctors were at a loss to help him. His mother sent him to a Tibetan doctor, who heated needles made of gold and burned patches of Lamdark's face with it. Two weeks later, Lamdark began moving his face again.
"This is how I first got reconnected to my heritage."
From there, Lamdark came to New York, where he studied fine art at Parsons and Columbia University. He was one of the first Tibetan artists to exhibit in the United States, at 2000 Tibet House exhibition curated by Diego Cortez. At that time his work featured heavy sculptures crafted out of metal-framed Plexiglas mirrors and light boxes that weighed fifty pounds or more.
It was around this time Lamdark began experimenting with beer cans and soda bottles, poking holes in the bottom to create images—from grinning snaggletooth monsters to iconic figures like Albert Einstein. These Pointillist images could then be viewed through the soda tab opening like a kaleidoscope. Placing these cans over the screen of a TV running news, he called this installation Peep Show.
Today, he's working with, and melting down, a lighter material: PVC, the third most common plastic in the world.
"I like the idea of recycling," he said. "Everyone's against plastic, but plastic is here and should you make some art with it. Recycle it and make art. That's my thing." Whatever his work—melted PVC skulls molded from a skull-shaped bottle of vodka to a wall of delicate PVC guitars to a bicycle wheel mandala that takes equal inspiration from Duchamp, Matisse, and Lichtenstein—Lamdark favors bright, intentionally mismatched fluorescent colors: magenta, lime green, electric blue, and hot pink.
In Dorge Drakken and Kiss (2012), now on view at the Samuel Dorsky Museum exhibition titled Anonymous, he places pop culture icon Gene Simmons of Kiss next to the Tibetan oracle Dorge Drakken. Both stick out their tongues—Simmons to provoke, the oracle in greeting.
"The rock stars all had to get their ideas from somewhere," he explains, laughing.
What's next for the enfant terrible of Tibetan art? Some of his work will be appearing in an exhibition In Between (opening November 4), curated by Tenzing Rigdol at Rossi + Rossi, alongside about twenty Tibetan artists in response to a collection of Tibetan carved manuscript covers from as early as the twelfth century. After that, he will take part in an exhibit at his Swiss brother's new gallery, and then he's off to Hong Kong in May, where he'll show his work at Art Basel Hong Kong.
---
Thank you to Tenzing Rigdol and Kesang Lamdark for sitting down with us to talk Tibetan art, as well as to Rossi + Rossi gallery in London for their support.
For more than a decade, Trace Foundation has been proud to support Tibetan artists breaking new ground. In 2001, we cosponsored four Tibetan artists with Snug Harbor Cultural Center. Out of these artists' experiences in the art galleries of Brooklyn and Chelsea, the Gendün Chöpel Artists Guild was formed in Lhasa as a meeting place and showroom for contemporary Tibetan artists. Stay tuned in 2014 for an art exhibition featuring these artists, and many more, in celebration of Trace's twentieth anniversary.