Producing Efficacious Medicines on a Small Scale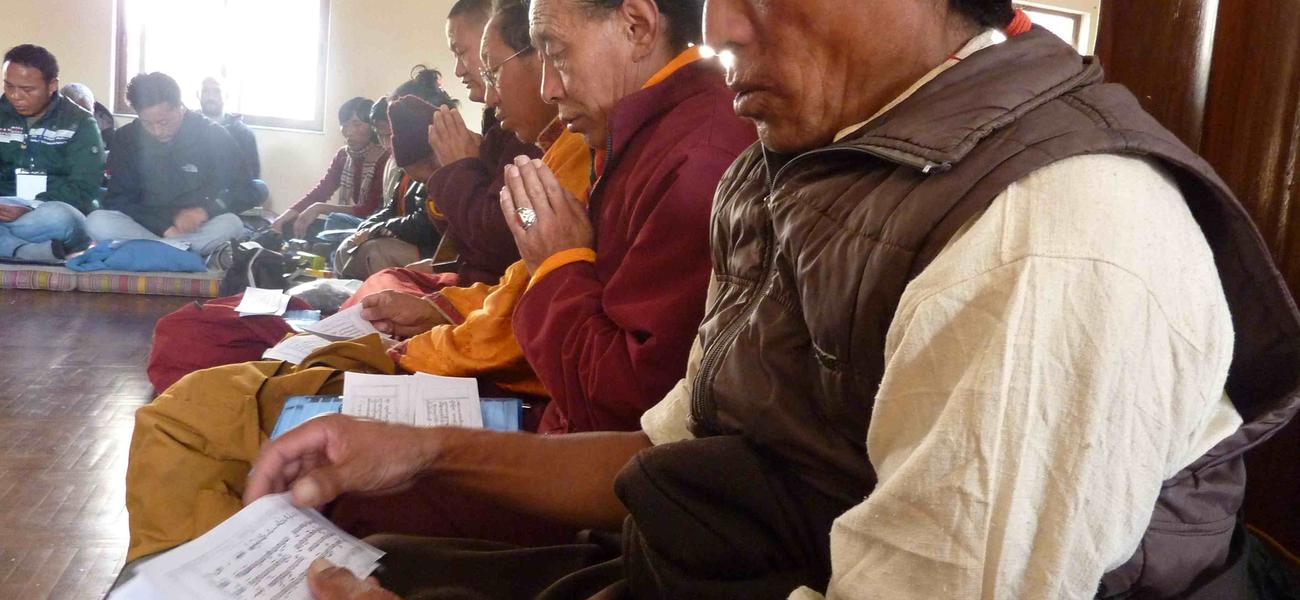 The Workshop Convenes
The cool, earth-colored linoleum floor of Dolma Lhakhang was strewn with teacups and biscuit crumbs. Monastery-style cushions, at once durable and thick, had been pushed up against central pillars and clustered into a circle, enabling the forty practitioners of the Tibetan "science of healing" or Sowa Rigpa (gso ba rig pa) to listen to the opening comments by six senior practitioners of Tibetan medicine, also called amchi.
One of them sat cross-legged beneath the workshop banner, addressing this intimate audience of fellow amchi and four anthropologists. He began:
Today, the quality of medicine has declined, and our medicinal herbs are being depleted due to the massive increase in demand arising from the development [of the Tibetan medicine industry]. Short-term profit is reaped at the expense of the future. If we don't take better care now, there will be great problems ahead . . . When I was young, we had small amounts of very rare species, but at this current rate of "development," we'll be out of ingredients in twenty years. Our Tibetan Sowa Rigpa is like a precious jewel. It needs protection for the future. If we don't pay attention now, future generations will blame us.
These opening comments signaled the start of an eight-day workshop entitled Producing Efficacious Medicine: Quality, Potency, Lineage, and Critically Endangered Knowledge, which was held with support from Trace Foundation and other organizations in Kathmandu from December 5–12, 2011. These words illustrate the host of real-world concerns facing practitioners of Tibetan medicine today: the inherent fragility in transmitting personalized skills and practices from one generation to the next, the indivertible drawbacks of a booming Tibetan medicine industry with virtually no long-term strategy for sustainable collection or cultivation of medicinal plants, and issues of preservation of both materia medica and critically endangered knowledge.
The initial idea for the workshop emerged in conversations between two of this article's authors at the large seventh International Congress on Traditional Asian Medicine (ICTAM) held in Bhutan in 2009. The workshop was intended mainly to bring together a diverse group of doctors; to enable knowledge exchange among them and document and better understand nonstandardized Tibetan medicine production. In contrast to the meeting in Bhutan and other such gatherings, we wanted to bring together practitioners who did not belong to institutionalized Tibetan medical elites and have not had the chance before to participate at an international meeting. Then, after almost two years of planning across three continents and several languages, we finally came together—an unlikely crowd listening to this respected physician and teacher from Lhasa. Our aim was to offer practitioners a unique opportunity to work with one another and yet still be attentive to our individual and shared research interests, as well as attuned to the ethical challenges behind the ideal of sharing knowledge. Some participants traveled overland from Xining, via Lhasa, and on to Kathmandu. Others descended from the mountains of Nepal or traveled from Ladakh via New Delhi. The convened group ranged in age from midtwenties to mideighties and included people practicing under a wide variety of geographical, socio-economic, and institutional conditions. Nearly all participants distinguished themselves by the fact that they not only belong to specific lineages of practitioners but also that they still compound and prescribe their own medicines in an era otherwise marked by rapid commoditization of Tibetan formulas, shifts toward standardized mass production methods, and the implementation of pharmaceutical governance regimes derived from biomedicine. Only one female practitioner from Ladakh attended the workshop, but the place of women in the past, present, and future of Sowa Rigpa was a point of active discussion throughout the week.
The workshop presented us, the anthropologists, with new approaches to ethnography. In contrast to much of our previous individual fieldwork on Tibetan medicine, here we created a shared platform for practicing anthropology: our research interests melded with and were reflected through the concerns of practitioners. We shared a concern regarding the present state and the immediate and long-term future of small-scale, nonstandardized medicine production, in an age of a rapidly booming and expanding Tibetan medical industry, whether in Tibetan areas of China and in India or in the still-fraught legal space that Sowa Rigpa holds in Nepal. Practitioners and anthropologists alike were keen on learning from one another. We aimed to document and validate knowledge related to medicine production—including didactic and embodied approaches to learning this skill. We focused on identification of materia medica and different ways to prepare common recipes, as well as the sourcing, preparation, and compounding of ingredients. The very important topic of substitution of rare or endangered ingredients and the standardization of formulas guided many discussions during our weeklong workshop. Although we did not come to any final set of conclusions or standardized recommendations on substitutes, the discussion illustrated that it was possible to come to agreement on different hierarchies of sort for the use of substitutes and to agree on which substitutes may be most viable in specific circumstances.
Making Medicines
Although we approached these issues from distinct perspectives, both the anthropologists and the practitioners agreed that the best way we could learn about these issues would be to not only produce documentation of knowledge exchanges and record the proceedings but to learn by doing. Together, we would produce three Tibetan formulas. After two introductory days, which included a wang or empowerment ceremony, we settled into to the practical task of making medicines, beginning by splitting into three groups. It was decided that the three medicines we would make should each balance one of the three main nyépa ("dynamics" or "faults," often translated as "humors") of lung ("wind"), tripa ("bile"), and beken ("phlegm"). These are quintessential Tibetan medical concepts to understand human physiology and psychology, which can be manipulated through diet, behavior, medicines, and external therapies. We focused on pharmacological treatment, and the three medicines chosen were Agar 8, Tigta 8, and Sendu dangné, each known by the amchi for qualities that can balance wind, bile, and phlegm-related disorders.
Throughout the workshop, lively discussions took place concerning commonalities or variations of materia medica sources for these three drugs, textual references for the recipes, and quantities, as well as qualities, of the specific ingredients comprising these formulas. These discussions dovetailed with several other key issues, such as dosage, regional variability, and the assessment of the potency, quality, and efficacy of Tibetan medicines.
Together, we headed to the herb markets of Kathmandu, not only to purchase materials for these three chosen medicines, but also to find samples of more than fifty medicinal ingredients to use as a basis for further discussions on potency, toxicity, and quality. These market excursions led into the shared labor of meticulously cleaning and preparing the different medicinal materials. While practitioners sifted out dirt and other impurities from batches of pomegranate, examined eaglewood, and sorted through twiggy tigta, lively discussions ensued about different definitions of "cleanliness," as well as "quality" and "contamination."
Once the medicines had been cleaned and prepared, we then turned to the task of weighing and apportioning specific ingredients. The agreed-upon ratios were derived both from textual sources and from a good deal of collective discussion about specific practitioners' experiences making these medicines. Some engaged and productive conversations also occurred when practitioners took up the issue of mercury and the production of tsotel (purified mercury-sulfide ash)—an ingredient that forms the base material for many of Tibetan medicine's most treasured medicines, the so called "precious pills," or rinchen rilbu, which are used in prevention, as well as the treatment, of very serious medical conditions. Purified mercury hence holds not only great promises, but also potential harm when not produced in accordance with stringent several weeklong detoxification processes. While these and other conversations about substitution continued, a small group of practitioners, accompanied by two of the four anthropologists, went off to a local Tibetan medicine and incense factory to borrow the machines needed to grind the three batches of medicine.
At the end of this work in smaller groups, we reunited for one of several intensive discussions about substitution and the removal of poisons and impurities from medicinal substances. The senior practitioner from Lhasa led many of these discussions in the larger group. Through the deference and respect shown to the most authoritative practitioner, the group reinforced traditional modes of knowledge transmission and deeply held Tibetan cultural norms. Yet the forum also provided a space for other senior participants to share their knowledge and for more junior practitioners and students to listen and ask questions.
After a day devoted to pilgrimage and a visit to Nepal's botanical gardens at Godavari, the final day of the workshop provided time for a small medicine-blessing ceremony among the practitioner group. Then official ceremonies included visits by chief guests from Tribhuvan University and the Ministry of Health and Population, an important addition for our Nepali colleagues, as Sowa Rigpa remains unrecognized by the government of Nepal. We also made time for less official moments of reflection, feedback, and closing discussions.
Concluding Remarks
This workshop was productive at many levels, not the least of which was in succeeding in bringing together a diverse group of Tibetans who normally would not have the opportunity to interact, let alone to share knowledge gleaned from a lifetime of experience as medical practitioners and teachers. Even though we were working with time constraints and imperfect medicinal ingredients, there were still many instances in which the group decided to proceed in ways that emphasized the idea of developing best practices within Tibetan medical production. The knowledge both practitioners and anthropologists gained through this process deepened our appreciation of the adaptability, the pharmacological complexity, and the socially embedded nature of Tibetan medical practice.
The event also represented an approach to ethnographic research that placed the group of anthropologists in the position of helping to facilitate learning experiences and forms of social exchange, rather than simply adhering to a pre-established research agenda. We experienced how collaboration around a specific event as an anthropological method is suited to document, evaluate, and analyze increasingly international and interregional exchanges among networks of practitioners in complex settings.
Further valuable outcomes for the practitioners included the transregional knowledge exchange and communal reflections on contemporary issues of substitution, standardization, and identification. For Nepal-based practitioners, the workshop provided evidence for the Nepalese Health Ministry that international efforts are underway to garner state support and establish state-funded "vocational" Tibetan medical training in Nepal. Finally, it allowed Tibet-based practitioners to reflect on the relative strength of their knowledge and practice and different kinds of challenges they face in practicing and producing Tibetan medicines in China.
In the months since the workshop, we have worked further on the production of a short documentary in collaboration with a local videographer and filmmaker for use in teaching and fundraising purposes, have written an op-ed addressed to the then prime minister of Nepal, and produced a summary of the workshop for other key funders. We also worked with several Nepali journalists covering the event and shared video and audio-recordings of the workshop with the participants in the hopes that this record will serve many purposes. We are currently engaged in English-language academic writing projects and Tibetan-language report writing, preparing a research article on the workshop to submit to Current Anthropology. We also aim to publish a version of this short article in Tibetan, both through Trace Foundation and through the Sorig Newsletter produced by the Ladakh Society for Traditional Medicine (LSTM).
We envision additional outcomes from this workshop, such as the participation of some of the practitioners on the forthcoming eighth ICTAM meeting in Sancheong, South Korea, and a further workshop and training with senior practitioners from Tibet for novice practitioners from Nepal, later this year.
In all, this event was a remarkable experience of communitas and a precious example of what collaborative research can bring, both to researchers in forms of critically applied anthropology and to all kinds of interlocutors. There were many moments of spontaneous, quiet joy as speakers of different dialects reached for mutual intelligibility; or as a doctor peered into the hands of a fourth-generation Newari herb trader in old Kathmandu, recognizing a type of plant that he had never before seen in its raw, unprocessed form—potent but for the dust. We also enjoyed equally as many moments of collective learning, albeit at different levels and in distinct ways, and emerged from this week with much gratitude for the openness, good will, and insight that this gathering produced.
All of the organizers and participants were very grateful for the support we received from Trace Foundation as well as other funders. Simply put, the event could not have occurred without this generous support. Beyond financial resources, the fact that we were able to bring together such a diverse group of individuals to share discussions on serious questions about the future of a diverse system of knowledge and practice about which we all care deeply meant that, by virtue of this meeting, we were able to imagine new possibilities and to meaningfully reflect on the past decade or more of support for Tibetan medicine that has come, in great part, through organizations like Trace Foundation. We hope to continue such discussions and engaged, collaborative work with Tibetan medical practitioners into the future.