Drawing the Gods: The Birth of Contemporary Tibetan Art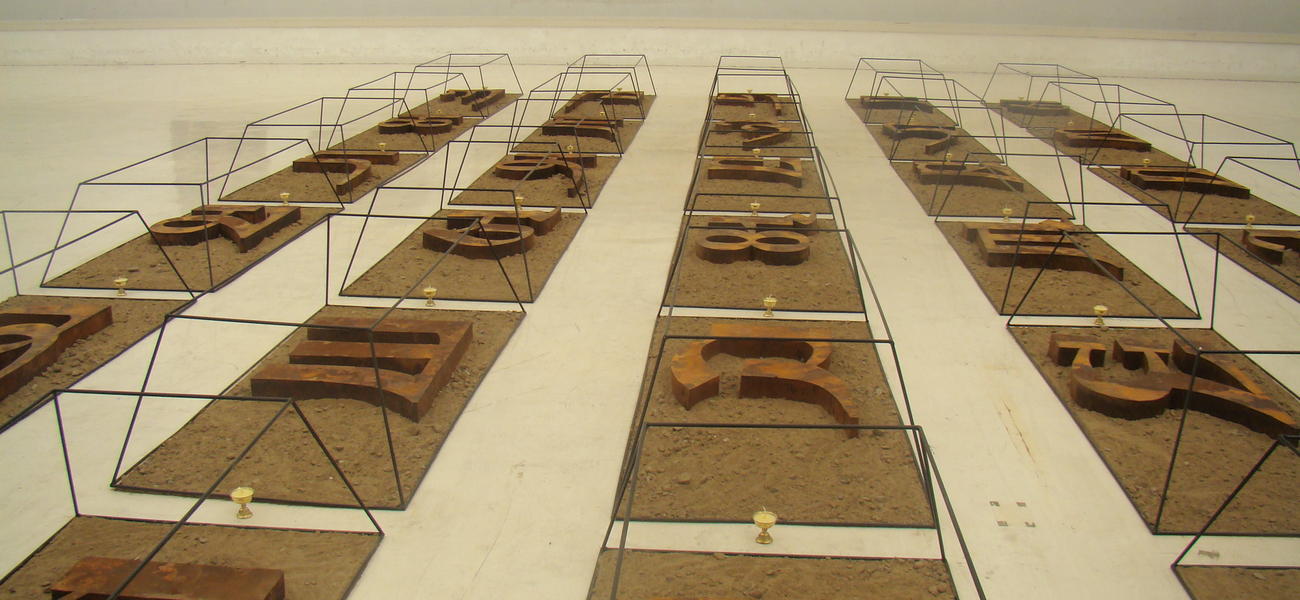 IT CAME TO HIM IN A DREAM. He was transported back to middle school, in Lhasa, taking an exam. No matter how he wracked his brain, he couldn't remember the Tibetan alphabet. Running out of the school, he found a field of sand nearby, where he buried his books and pens—embarrassed and angry at his failure.
Using this dream as inspiration for an installation (pictured), the enfant terrible of the contemporary Tibetan art world, Nortse, placed gigantic rusting iron Tibetan characters on plots of sand for display at an exhibition in Beijing, offering museumgoers a profound commentary on the fragility of his mother tongue.
30 Letters was just one of the many gorgeous—and provocative—works presented in slides at Trace Foundation on the evening of Friday, January 11, 2011, when we invited two members of the Gendün Chöpel Artists' Guild to discuss current developments in contemporary Tibetan art in an event called Art Lhasa Now.
TENZING RIGDOL
Tenzing Rigdol, a contemporary Tibetan artist living and working in New York, moderated the discussion with artists Tsering Nyandak and Nortse. The evening kicked off with an introduction to the Gendün Chöpel Artists' Guild. Rigdol explained how, in the early 2000s most Tibetan art was intended primarily for tourists' wallets and walls—so much so, in fact, that many art galleries in Lhasa were closed off to locals interested in art. It was around this time that four Tibetan artists—Gade, Tserang Dhundrup, Benchung, and Tsering Dorjie—came to New York for an artist-in-residence program funded by Trace Foundation and saw firsthand the kind of lively work going on in artists studios there. Returning to Lhasa, they resolved to create greater opportunities for self-expression and to elevate the work of contemporary Tibetan artists. Out of that desire, in 2002 the Gendün Chöpel Artists' Guild was born. You can read more about the founding of the gallery and Guild in two articles, "Bearers of Tradition" and "Escape from Nothing," in our Autumn 2010 Künpen Tamsar newsletter.
It's an understatement to say that, by the time of our event that cold January evening, the contemporary Tibetan art scene had transformed from almost nothing into a flourishing international movement, known in particular for provocative juxtapositions of centuries-old imagery and techniques with modern media and influences. In our panel, Rigdol discussed two of the Guild's most recent successes. The Scorching Sun of Tibet, an exhibit curated by the leading Chinese art critic Li Xianting at the Songzhang Art Museum in Beijing, was so popular among Tibetans and Chinese museumgoers that the exhibit was extended multiple times. An unprecedented collaboration between Chinese and Tibetan artists, it garnered a great deal of publicity for all artists involved and contemporary Tibetan art in general. Another exhibit in 2010, Tradition Transformed: Tibetan Artists Respond, at the Rubin Museum of Art, introduced Westerners to nine groundbreaking Tibetan artists who work with traditional forms in untraditional ways and was featured in the New York Times.
TSERING NYANDAK
After Rigdol's introduction to the Guild's work and exhibitions, we invited Tsering Nyandak to comment on what he thought was the most exciting artwork coming out of Tibetan areas, whether from members of the Guild or other artists.
Warm laughter filled the room as he described Everyone Likes to Show Off Their Favorite Car, an oil painting by Somani that juxtaposes iconic Western figures like President Obama with a traditional Tibetan color palette and technique—playing with themes of reincarnation and materialism.
About his own work, Nyandak described several paintings he created between 2004 and 2007 for an eight-piece balloon series. These arresting paintings are characterized by vibrant Chagall-like blues, and the balloons, symbolic of emptiness, are just one of the ways Nyandak's work has wrestled with the philosophies of Tibetan Buddhism. His most recent piece, he told the audience, an installation entitled Cornered Between Meditation and Non-meditation, would be destroyed after the exhibition, a further demonstration of the Buddhist philosophy of impermanence.
NORTSE
Next, Rigdol turned to special guest Nortse, an iconoclast even in a movement known for its iconoclasm. Pointing to a series of photographs on the projection screen, Nortse explained how one of his first experiments with Expressionism (a movement unfamiliar to most Tibetans and Chinese at the time) involved working with a Chinese artist in 1987 to create a series of photographs of him posing in front of a lake in Nakchu, his face obscured with cloth. Concealing the face, and therefore the identity of his paintings' subjects—whether a member of the Red Guard, a Buddhist practitioner, or a contemporary businessman—went on to become a leitmotif in much of his work.
From paintings and photographs to installations like 30 Letters, Nortse has become known as one of Tibet's most versatile artists. In one exhibition, he constructed a panel of forty pieces using only materials he found in the kitchen: chili seeds, noodles, even egg shells.
Rounding out the presentation were Nortse's series of self-portraits, which explore diverse themes, including global warming, overpopulation, and identity—and might remind you of Magritte, had he lived in the digital era. In one of these paintings, Nortse's forearms are bound in front of him with a dirtied white cloth. Out of his spread palms flutter green butterflies. If you look closer, you can see Tibetan psalms inscribed on the butterflies' wings; their place of origin, the sheets of paper wedged into his hands. This is Extrication, composed in 2006 of both oil paints and digital technologies.
Every guest came away from Nortse's presentation with a favorite, and every guest came away knowing, above all, that whatever Nortse worked on next, it would be unlike anything he'd done before—and unlike anything the world had ever seen.
AS THE LIGHTS CAME UP IN our Reading Room, the panel with these artists culminated in a discussion about the contemporary Tibetan art movement. Nyandak emphasized that Tibetan art, whether it comes from inside or outside of China, is not about being globalized; it's about local artists, about inviting monks, nuns, teachers, businessmen, and local pilgrims in Lhasa to engage with artists and their work.
Nortse offered a few words of warning about sustaining an art culture in the next ten to twenty years, one free of imitation and unoriginality. The closest translation to "art" in Tibetan is lha dripa, literally "drawing gods," after all. In a region where art has been closely tied to its religious function for centuries, it would be only too easy for artists to fall back into imitation under the weight of tradition and the demands of tourists.
Art Lhasa Now was just one of Trace Foundation's many contributions to preserving and promoting Tibetan art. We are proud to have been at the forefront of the contemporary Tibetan art movement, working both to preserve traditional art and to promote living art and artists on the Plateau. We extend our deepest thanks to Tenzing Rigdol, Nortse, and Tsering Nyandak for making this event a success, and we welcome visitors to our Library, where they can view all the exhibition catalogs of these artists' work, as well as beautiful examples of work from members of the Guild.
TSERING NYANDAK (b. 1974, Lhasa) is a founding member of the Gendün Chöpel Artists' Guild in Lhasa. Beginning in 1999, Nyandak studied art under Tsewang Tashi, another member of the Guild and a lecturer in the fine arts department at Tibet University. His most recent works include bright, symbolically charged portraits of women and young children against barren landscapes.
NORTSE (b. 1963) joined the Gendün Chöpel Artist's Guild in 2005. From the early '80s to the early '90s, he studied art at academies across China, including Tibet University and the Central Arts Academy in Beijing.
TENZING RIGDOL was born in Kathmandu, Nepal. He has a diploma in traditional thangka painting and also studied sand painting and butter sculpture in Kathmandu and India. In 2005, he attained a BA in Art History and a BFA in Painting/Drawing at the University of Colorado at Denver. Tenzing Rigdol's art has been exhibited in numerous venues in the United States, the United Kingdom, Hong Kong, and China. In 2008 he was awarded the Rubin Himalayan Artist Fellowship at the Vermont Studio Center. He now lives and works in New York City.